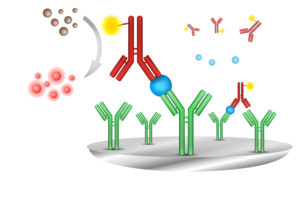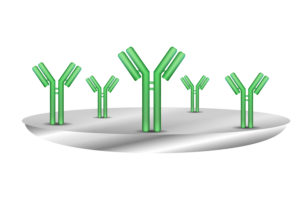 Primary antibodies
Primary antibodies
Antibodies, also known as immunoglobulins, become a very import tool in the detection of substances in variety for medical research, diagnosis and science.
Most of our antibodies are produced by mammal, such as a mouse or rabbit. Blood isolated from these animals contains polyclonal antibodies (multiple antibodies that bind to the same antigen) in the serum, which can now be called antiserum.
To produce an antibody that is specific for a single epitope of an antigen, antibody-secreting lymphocytes are isolated from the animal and immortalized by fusing them with a cancer cell line, these fused cells are called hybridomas, and will continually grow and secrete antibody in culture. Single hybridoma cells are isolated generate cell clones that all produce the same antibody; these antibodies are called monoclonal antibodies.
Immunologic's antibody portfolio is a variety of our own line.
The specfication of the Monoclonal and Polyclonal catalog numbers is as follows:
ILMxxxx-C1; Monoclonal antibodies, purified concentrated antibodies, 1 ml
ILMxxxx-C05; Monoclonal antibodies, purified concentrated antibodies, 0,5 ml
ILMxxxx-C01; Monoclonal antibodies, purified concentrated antibodies, 0,1 ml
ILPxxxx-C1; Polyclonal antibodies, purified concentrated antibodies, 1 ml
ILPxxxx-C05; Polyclonal antibodies, purified concentrated antibodies, 0,5 ml
ILPxxxx-C01; Polyclonal antibodies, purified concentrated antibodies, 0,1 ml