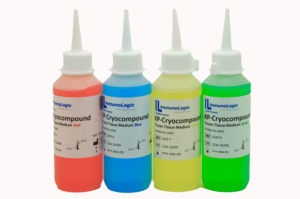 Freezing medium
The freezing medium (CryoCompound) is an aqueous based frozen tissue embedding medium designed to support tissue blocks in cryostat sectioning. Formulated to promote rapid freezing, enhanced sectioning and consistent results at a working temperature of -20° C.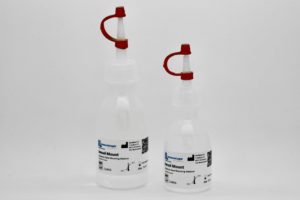 Others
Aqua mounting medium
The aqua mounting medium is a widely used for coverslipping from aqueous solutions.
It is a non-fluorescing and has an antifade component to increase the viewing time of the specimen. Use Aqua-Poly/Mount with most fluorescent dyes and stains including DAB, Alkaline Phosphatase, Fast Red, AEC (aminoethylcarbazole) and a variety of other chromogens to enhance and retain fluorescent intensity. It can be used for frozen sections, fat stains, chromogens for immunohistochemistry and in situ hybridization as well as other applications requiring a water-soluble mounting medium.
Our products
Cat. No.
Description
Volume
Datasheet
1620-C
CRYCOMPOUND CLEAR
100 ml
Click here
1620-B
CRYCOMPOUND BLUE
100 ml
Click here
1620-Y
CRYCOMPOUND YELLOW
100 ml
Click here
1620-G
CRYCOMPOUND GREEN
100 ml
Click here
1620-R
CRYCOMPOUND RED
100 ml
Click here
1620-O
CRYOCOMPOUND ORANGE
100 ml
Click here
1620-MOHS
CRYOCOMPOUND COLOUR KIT
4x 100 ml
Click here
4058
MOUNTING MEDIA (WATER BASED)
30 ml
Click here
4059
MOUNTING MEDIA (WATER BASED)
50 ml
Click here
HIER-CC
Citrate buffer, Heat-Induced Epitope Retrieval
(10x, Tween20) clear

100 ml, 250 ml, 500 ml, 1000 ml
Click here
HIER-CR
Citrate buffer, Heat-Induced Epitope Retrieval
(10x, Tween20) Red
100 ml, 250 ml, 500 ml, 1000 ml
Click here
HIER-TEC
Tris/EDTA, Heat-Induced Epitope Retrieval
(10x, Tween20) clear
100 ml, 250 ml, 500 ml, 1000 ml
Click here
HIER-TEB
Tris/EDTA, Heat-Induced Epitope Retrieval
(10x, Tween20), Blue
100 ml, 250 ml, 500 ml, 1000 ml
Click here